Audrey
From Hackbox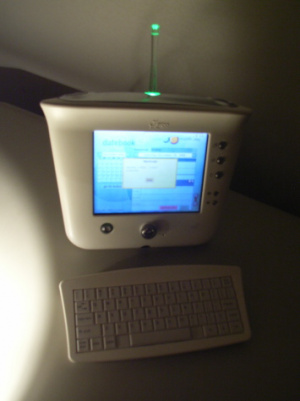 Specification
3Com Ergo Audrey
Geode GX1 CPU @ 200MHz
32 MB RAM
16 MB Flash
Information
The 3Com Audrey was sold in the US only for a brief period from October 17, 2000 until June 1, 2001. It was the only product released from the company's "Ergo" initiative. It was sold for 499 USD.
Condition
Fully working, spotless condition.
Including original box, packaging, cables,...
Compatible 3com USB ethernet adapter
Power supply is 110V (added adapter to 220V)
Done
Get root shell.
Increased the color depth from 8 to 12 bit so that images in the browser look better.
Changed the ntp servers but still time sync fails at boot.
To Do
Fix the ntp. Now every startup you have to enter the date/time manually, this is very annoying.
Find a suitable (old 32M) compact flash card and make a backup of the system as described here