HP150
From Hackbox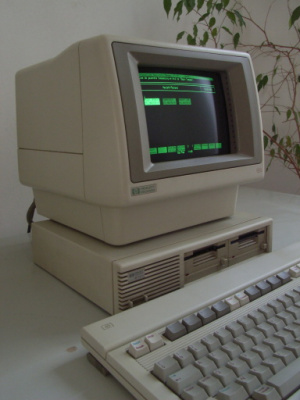 Specification
Hewlett-Packard 45611A (HP-150) Serial no. 2348F02441
HP 9121D dual 3,5" disc drive Serial no. 2229A20029
Origin
Kindly donated by a friend who's (parents) used it to do the accounting for their business.
Condition
boots PAM and DOS 2.11 from original floppy (HP 150 SYS MASTER A.01.04) using the 9121 dual floppy unit.
touchscreen doesn't work.
the first drive of the 9121 unit is broken.
Done
tried to fix the touchscreen as described in the Service Manual: removed bezel and cleaned dust from the LEDs.
because the 150 boots from unit 0, I set the working drive to 0 and the other to 1 using the dip switches on the drives inside the unit. Not ideal because drive 1 is marked 0 and vice versa, it would be better to swap the drive slots too.
To Do