Tek547
From Hackbox
Description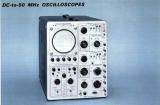 Tektronix Type 547 Oscilloscope
This is a high-end piece of equipment for the 1960's. There are no PCBs inside!
Origin
Acquired in 2010 from the grandson of an old/ill electronics enthusiast.
Condition
The high-voltage transformer is missing. Most likely it was broken (a common problem with these scopes) and then removed by the original owner.
There's not much you can do without the CRT but e.g. the horizontal out-of-range indicators prove that the horizontal sweep is running, can be adjusted etc.